Technology Solutions
Align people, processes and technology.
Business applications empower streamlined operations, data-driven decisions, and digital success.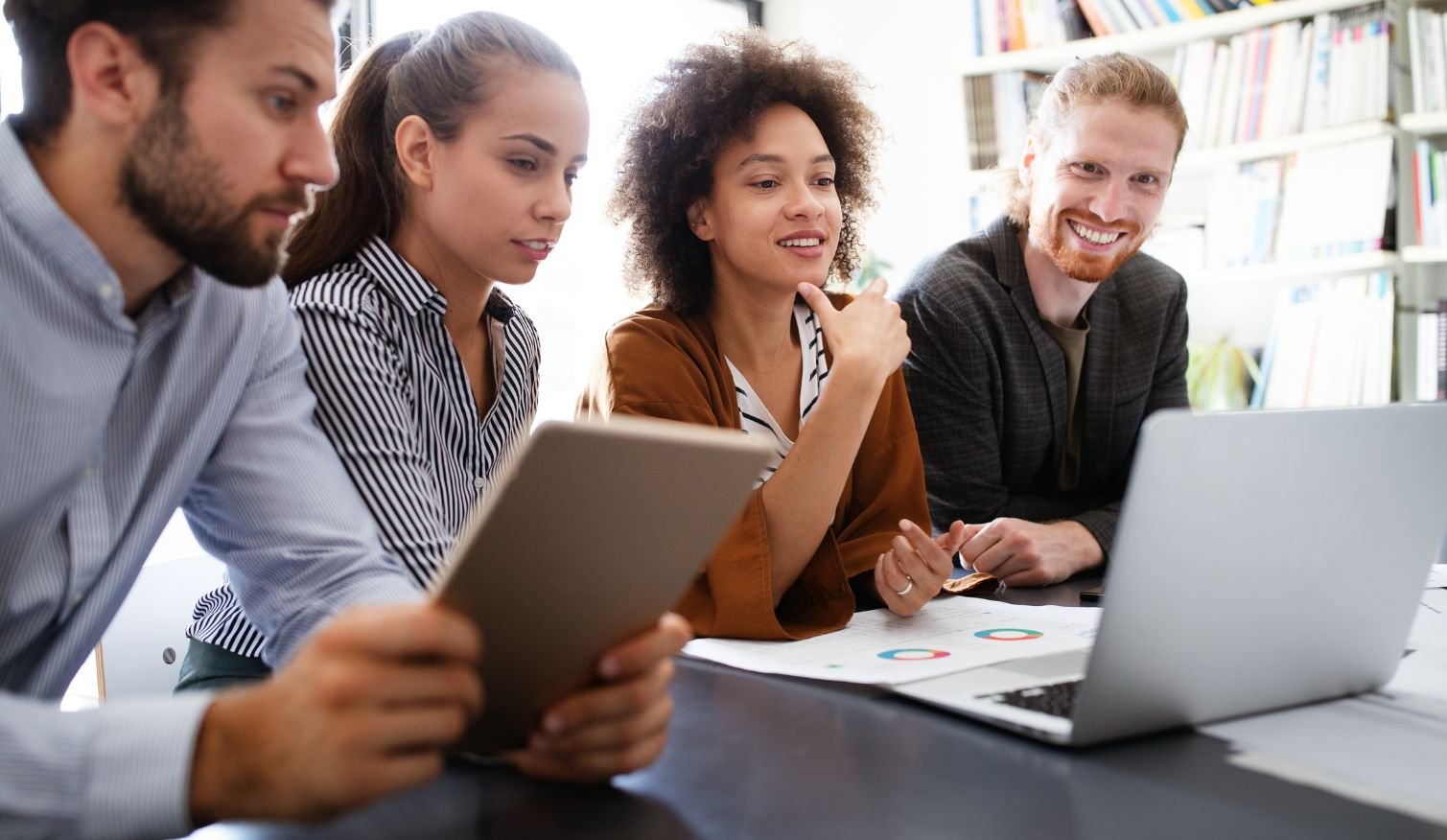 Microsoft Solutions Partner
As a Solutions Partner for Business Applications, TrellisPoint has broad capabilities to deliver solutions with Dynamics 365 and Power Platform.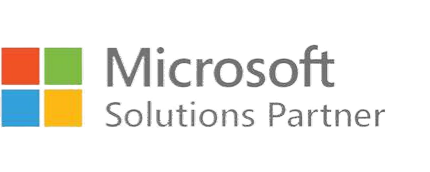 Dynamics 365 is Microsoft's transformative suite of intelligent business applications, designed to streamline operations, enhance customer experiences, and drive data-driven decision-making. By integrating various apps on a unified platform, businesses gain better visibility and collaboration across departments. With a customer-centric approach, the platform enables personalized interactions, fostering loyalty and retention. Advanced analytics provide actionable insights for agile responses to market changes, while its flexibility and scalability allow for customization and growth. Emphasizing security and compliance, Dynamics 365 empowers businesses to thrive in the digital era and unlock their full potential.
Here are the core products that were included in Dynamics 365 at that time:
Dynamics 365 Sales: Helps sales teams manage leads, opportunities, and customer relationships, providing insights to improve sales performance.

Dynamics 365 Customer Service: Enables businesses to provide exceptional customer service by managing cases, resolving issues, and delivering personalized support.

Dynamics 365 Field Service: Streamlines field service operations, enabling efficient scheduling, resource optimization, and remote assistance.

Dynamics 365 Marketing: Empowers marketers to create and execute personalized campaigns, nurture leads, and analyze marketing performance.

Dynamics 365 Human Resources: Manages HR processes, including employee data, benefits, time and attendance, and talent development.

Dynamics 365 Finance: Facilitates financial management, budgeting, invoicing, and reporting for organizations.

Dynamics 365 Supply Chain Management: Handles supply chain processes, including inventory, procurement, production, and logistics.

Dynamics 365 Commerce: Enables businesses to manage e-commerce, point-of-sale, and omnichannel retail experiences.

Dynamics 365 Business Central: Designed for small and medium-sized businesses, it offers ERP capabilities to manage finances, operations, sales, and customer service.

Dynamics 365 Project Operations: Helps project-based organizations with project management, resource planning, and project accounting.

Dynamics 365 Customer Insights: Unifies customer data from various sources to provide a 360-degree view of customers, enabling personalized experiences.
In the ever-evolving world of technology, businesses seek innovative solutions to streamline operations, drive productivity, and unlock untapped potential. Microsoft, a pioneer in the tech industry, introduced the Power Platform as a powerful suite of tools that empowers organizations to build custom business applications, automate workflows, and gain valuable insights from data.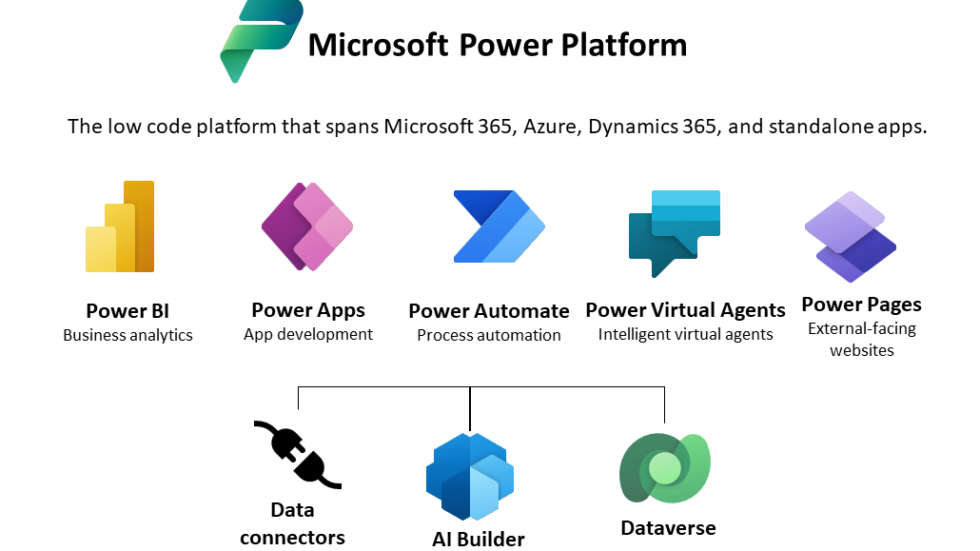 Understanding Microsoft's Power Platform
The Power Platform, introduced by Microsoft, is a comprehensive and robust suite of low-code/no-code tools designed to enable businesses to create custom applications, automate processes, and analyze data effortlessly. Comprising three main components, Power Apps, Power Automate, and Power BI, the platform empowers both citizen developers and IT professionals to collaborate and drive innovation within their organizations.


Power Apps: Building Custom Applications Made Easy
With Power Apps, businesses can develop custom applications tailored to their specific needs without extensive coding knowledge. Whether it's creating internal business tools, mobile apps, or customer-facing solutions, Power Apps offers an intuitive drag-and-drop interface, enabling rapid application development. This democratization of app development empowers employees at all levels to bring their ideas to life and solve unique business challenges.


Power Automate: Automating Workflows for Enhanced Efficiency
Power Automate (formerly known as Microsoft Flow) empowers organizations to automate repetitive tasks and streamline workflows. By connecting various applications and services, Power Automate facilitates seamless data transfer, approval processes, and notifications, reducing manual efforts and boosting overall efficiency. This automation frees up valuable time and resources, allowing teams to focus on strategic initiatives and innovation.


Power BI: Data-Driven Insights at Your Fingertips
In today's data-driven world, extracting insights from raw data is paramount. Power BI is a powerful business intelligence tool that transforms complex data into visually appealing and interactive reports and dashboards. With real-time analytics and data visualization, decision-makers can make informed choices, identify trends, and spot business opportunities faster than ever before.


Power Virtual Agents: Versatile AI Chatbots for Seamless Engagement
Power Virtual Agents empowers you to build AI-powered chatbots capable of handling a wide variety of requests, from addressing common queries to resolving complex issues through interactive conversations. Engage seamlessly with customers and employees across various platforms, including websites, mobile apps, Facebook, Microsoft Teams, and more, with multilingual support courtesy of the Azure Bot Framework.
Power Pages: Low-code Platform for Creating Responsive Websites
Microsoft Power Pages: Secure, low-code SaaS platform to create, host, and manage external-facing business websites. Empower low-code makers and developers to rapidly design and publish responsive sites using rich, customizable templates and integrated data from Microsoft Dataverse. A valuable addition to the Microsoft Power Platform family, enabling seamless website development alongside apps, workflows, virtual agents, and analytics.
Microsoft AI, powered by Azure, provides billions of intelligent experiences every day in Windows, Microsoft 365, Teams, Azure AI, Power Platform, Dynamics 365 and Microsoft Defender.
Microsoft's AI tools and technologies are designed to benefit everyone at every level in every organization. They are used in workplaces, home offices, academic institutions, research labs and manufacturing facilities around the world, and they are helping everyone from scientists and salespeople to farmers, software developers and security practitioners.
Unleash the Power of Copilot
Introducing Microsoft Sales Copilot (formally Viva Sales): Elevating Seller Experiences with AI-Powered Sales Intelligence!

Experience the thrill of seamless selling as Sales Copilot harnesses the power of Microsoft 365 and Teams to effortlessly capture, access, and organize CRM data. Say goodbye to manual data entry and hello to more time for what matters most - selling! With AI-driven insights from Microsoft 365 engagement data, Sales Copilot equips sellers with the ultimate sales intelligence to understand customers deeply, speeding up deal closures. Boost productivity, save time, and sell more with Sales Copilot - your key to conquering the sales game!
Contact TrellisPoint
Schedule a TrellisPoint Success Framework Session Today!


Our proprietary and proven process for Dynamics 365 success!
Learn More